This instalment of 'Beautiful Destroyers' is a little different, as I am not showcasing a particular aircraft. Instead, I'm looking at the origins of military aviation and also sharing a lovely piece of music. Enjoy!
As both a military historian and an aviator, I am of course passionately interested in the use of aircraft in military operations – or 'military aviation'. The history of the military use of aircraft is in itself a fascinating tale of high-end technology (military aircraft have always been at the forefront of technological development), courage, technical skill, determination, tactical development, trial and error, mistakes and success. Of course, warfare is an unforgiving crucible, and because of this it is one of the major motivating factors in the development of technology of all kinds. Military aviation is a prime example of this, if not indeed the pinnacle of modern military technology. It was realised fairly early on in World War I (1914-1918)* that control of the skies was of paramount importance in tactical (and later strategic) warfare. This continues to be axiomatic in modern warfare; he who controls the skies, controls the battle.
But of course it had to start somewhere. The first recorded use of aircraft in military operations was (as far as I know) the use of manned observation kites by the Chinese in the late sixth century – about 594CE. Hot air balloons were first used decisively by the French in 1794; however, although balloons continued to be used for observation purposes for long after, these kites and balloons were of course tethered to the ground and couldn't really go anywhere. Military aviation therefore really only came into its own during World War I, because with the advent of powered aircraft like aeroplanes and airships, people could actually go more or less where they wanted to go in the skies, rather than having to stay in the same place; this operational flexibility, of course, meant that virtually anything was possible from then onwards. But even then, fully-dirigible (that is, mobile and steerable) aircraft were still in their infancy; airships had been around for only two or three decades, and as for aeroplanes (or 'flying machines' as they were often called back then), the first powered aeroplane flight was only in 1903, so the technology was still very much experimental, and flying aeroplanes was very much a hit-and-miss affair (in other words, dangerous) because of this. So it was an historical period quite unlike any other as far as military aviation was concerned.
Having just finished an excellent book on British aerial combat operations in WWI, Fighter Heroes of WWI, by Joshua Levine, I bought the DVDs of the 1970s classic BBC series 'Wings', which for some reason I was completely unaware of at the time (that is, in 1974-76 when it was being shown on TV) – which is a shame as it would have been right up my street. It's an absolutely superb series with excellent characterisation, engrossing story writing, great acting, historical accuracy and (most importantly to me!) superb and authentic flying sequences. Anyone interested in the early development of military aviation will not fail to be captured by this series; it's simply brilliant.
And the theme music is gorgeous. In fact, despite my lengthy preamble, this music was actually the main inspiration for this post today – it is simply lovely. It has a nostalgic 'music-hall' feel to it, with a beautiful chord structure and bass-line, and above all, a catchy and poignant melody. And I recommend you listen to it on headphones if possible, in order to catch all the lovely nuances.
So, here we are – the theme music from 'Wings', composed by Alexander Faris:
Gorgeous. Hope you liked it!
[Edit]
The theme music for the series 'Wings' was released as a 45rpm vinyl record in 1977, and since first writing this article, I have managed to buy one. You can pick up a copy of your own from Amazon if you like; click the cover graphic below to go to the sales page: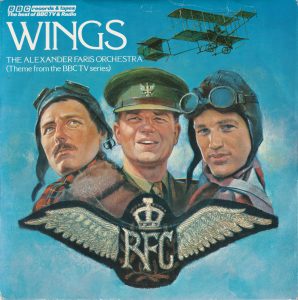 In case they have sold out, here is the title track as an orchestral arrangement, digitised from the A-side of the record:
During one of the early episodes in Series 1, some of the characters in the screenplay can be heard singing a military-style pub drinking song to the same tune. Since I like to have the lyrics for any songs I really like, I was delighted to find that the B-side of the record contained this vocal arrangement, entitled 'A Sussex Lad', which is the same song that the characters sang in the episode. The whole feel of the song is just so World War I; it's a perfect song for the series:
And finally, here are the lyrics so you can sing along:
I'm a gentle lad from Sussex
With a heart that's light and free
So a frown did pass across my brow
When my girl said to me
"They are fighting on the land, Jack,
And they're fighting on the sea
Will you be a sailor-boy
Or will you join the New Army?"
I'm a loyal lad from Sussex
With a heart that's brave and free
But the Sergeant-Major's language, Lord!
It simply horrified me!
And I would not join the Navy
For I've never liked the sea
So I put my brave heart to the test
And joined the RFC
I go skimming the tops of the mountains
And soaring all over the sea
I think of my girl as I'm flying
And I know she is thinking of me
I'm an airborne lad from Sussex
With a heart that's flying free
I've a pair of wings upon my chest
My girl's so proud of me
They can keep the Royal Navy
They can […] the infantry
For the sky is now my pasture
It's an airman's wings for me!
I'm a daring aviator
And I fly so skilfully
But my aeroplane lacked common sense
And crashed into a tree
Now my wings are lying broken
And my girl she weeps for me
For I've left this world and God's unfurled
These angels' wings for me
---
The inclusion of this blog post in my series 'Beautiful Destroyers' was apt, I thought, because it describes the very early origins of military aviation. Without the tireless efforts of those pioneers of the past, our 'Beautiful Destroyers' would never have existed.
---
The aeroplane in the header picture is a flying replica of a Royal Aircraft Factory BE2c, the mainstay of the Royal Flying Corps in 1915, when the series 'Wings' is set. A very stable aeroplane, and ideal for its designed purpose of reconnaissance (being a stable camera platform), it was not really designed to fight other aircraft; the idea of aeroplanes fighting each other hadn't really been thought of when this aeroplane was designed! The image is a direct screenshot from the opening titles of Series 1 of 'Wings'. I'm not sure there are any replicas still flying nowadays; remember this series was made in the mid-1970s 🙂
---
*Hostilities in World War I, known at the time as the 'Great War', ceased when the Armistice was signed on the 11th November, 1918. The War was formally ended in June, 1919, with the Treaty of Versailles. This explains why the dates on some war memorials say 1914-1919.