Well, it's been a looong time – more than a year, actually – since I last published a piece in the series 'Beautiful Destroyers: my articles about military aircraft and how beautiful they often are, despite their sometimes dark roles. Please accept my apologies for the long gap between posts in this series.
I did say that I would also be featuring civilian aircraft too, and today's aircraft is such a one. And I'm sure you'll love it.
So, here is the Sportavia-Pützer RS-180 Sportsman.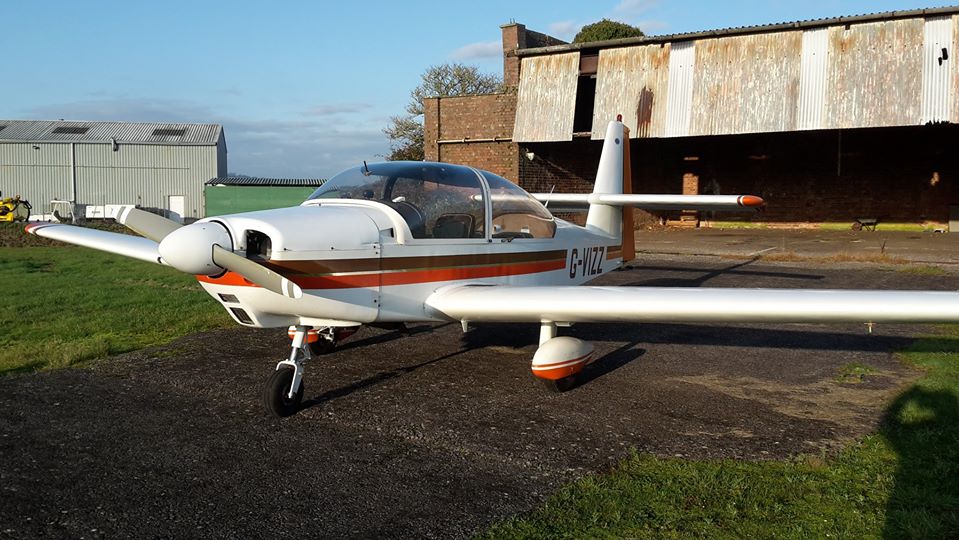 The RS-180 is a little-known aeroplane designed by legendary French aircraft designer René Fournier. Fournier also designed the Fournier RF-6/Slingsby T-67 Firefly (which was used as a basic flying trainer for the RAF and the Army, the Royal Navy and the Royal Marines) and a series of motor-gliders including the Fournier RF-4 and RF-5, all of which aircraft are well-known in General Aviation circles.
A four-seat, low-wing, single-engined monoplane, the RS-180 features a large bubble canopy with excellent – in fact I would say unparalleled – visibility, easy handling, and docile flight characteristics.
In this article, I will be writing pretty well exclusively about the aircraft in the photo above, G-VIZZ. It is an unbelievable fact that there were only eighteen aircraft of this type ever built, and G-VIZZ ('Zulu-Zulu') is the sole British-registered example. If you see an RS-180 flying over you somewhere in the UK, it will most likely be G-VIZZ. So, give us a wave 😉
Here she is standing on the taxiway in front of her hangar at Exeter Airport in Devon, UK, on a sunny morning in May 2020. Most of the pictures on today's blog post were taken on that day, and most of them are also clickable to zoom in for additional detail.
From a military history point of view, and indeed from a 'Beautiful Destroyers' point of view, the building we use for VIZZ's hangar is very interesting. It was originally built to be the gun butts, where the guns of the Spitfires that were based at Exeter in WWII could be set up safely. In other words, the 'hangar' was originally designed to be a giant bullet catcher. Here is a wartime photo of a Spitfire Mk.V having its guns calibrated, and the building is visible on the right of the photo:
Now, I am very fortunate to be a member of the Owners' Group for G-VIZZ, which means I get to fly her as often as I can afford (which is not as often as I'd like!) and because there are only a few of us, it means she is almost always available. Group members can borrow her for just simple flights, or for a weekend away, for touring, holidays, landaways and all sorts of things like that; basically she is our aeroplane and we can do what we like with her. Yes, that means that essentially I own an aeroplane. Sometimes I find that simply unbelievable 😉 But it also means that I get to write this piece from an owner/pilot's perspective.
The canopy is very large and bubble-shaped, with the only framing being the join line between the front and rear sections. It also has a really low coaming (the bottom edge) so the visibility is immense – even for the back-seat passengers.  In the photo below, taken at Exeter's Taxiway 'C', you can see how high up the line of sight is for everyone in the aircraft. No idea who the people in the aircraft are, by the way; they are not current Group members. Must have been taken a few years ago.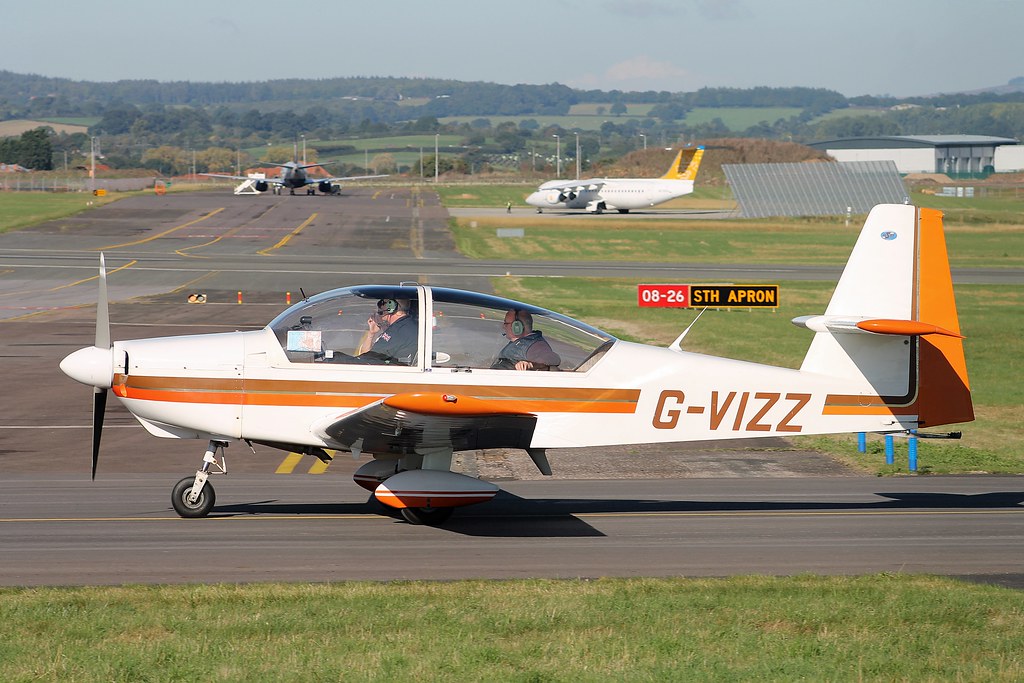 The canopy opens by sliding forwards on rails, which means that you can't open it in flight – so no flour-bombing competitions or anything with this aircraft[1]. Yes, there are such activities, and we used to do them at Bodmin (Cornwall Flying Club) in the Cessna 152s there 😀
The rear canopy is fixed in place, and the rear-seat passengers get in and out by tilting the front seats forward. For emergencies, there's even a miniature fire axe on the centre console to let the passengers hack their way out!
Everyone has a 'Happy Place', and here's a picture of mine:
This is the full instrument panel, showing even the yellow glider-tow release handle on the centre console (see below for more about this unusual feature). Remember the Captain's seat is on the left in an aeroplane (but on the right in a helicopter), so the most important instruments are arranged in front of the left hand seat. While it looks complex, in reality it's not. You don't sit there looking at all those gauges and dials in bewilderment and think, 'What does that one do? What about that one?' 😉 Actually how it works is that say I want to check my speed, maybe to make sure it is correct on final approach, I'd look at the airspeed indicator. That's the one on the top left. If I wanted to see how high up I am, it's the altimeter. That's the one slap-bang in the middle of the left instrument panel, with the two hands so it looks like a clock. So what happens is that you use the correct instrument to gather the required information at the time you need it.  It's just a question of knowing which instrument to look at, and where it is, in order to get the information you need. Most of the rest of the time, at least in daylight flying, you more or less ignore the instruments. Really, you shouldn't be peering at the panel all the time anyway; your eyes should be outside the aircraft, enjoying the view and looking out for other aircraft so you don't hit them.
Here's a closer view of the main instrument panel: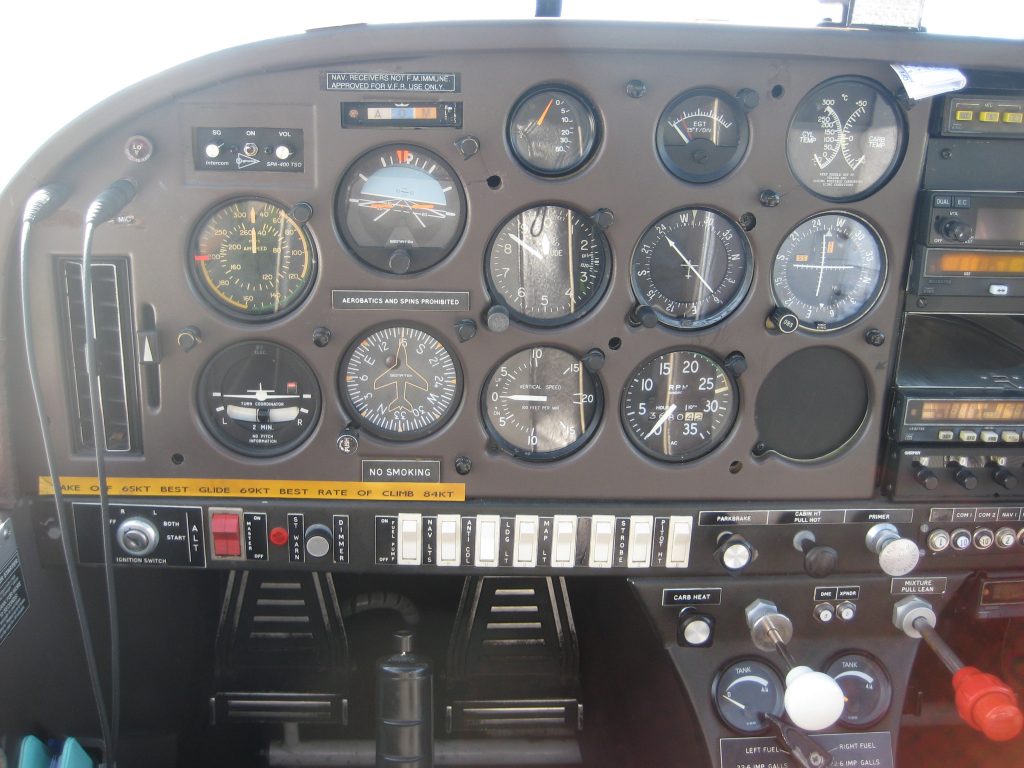 Note the gun button on the top of the control column; this fires the aircraft's machine guns and cannon.
Just kidding 😉 It's actually the transmit button for the radio – also known as a 'PTT' or 'Push to Talk' button.
So, what's she like to fly? Well, she is an absolute dream.
Yes, I have put her in my series 'Beautiful Destroyers' despite, if truth be told, her looking like a bit of an odd bird. The fuselage almost looks too short for the cockpit canopy, the tail is a funny shape and the tailplane is halfway up the fin.
But she more than makes up for that in her handling. Now that really is beautiful. Light to the touch, sensitive and yet well-balanced controls make for easy and gentle flying characteristics. She's stable, she's responsive and she's just so natural to fly. For example, I took my eldest son David up in her a few months ago, or, more accurately, he took me up. He's a Pilot too, and yes he's flown a fair few different aircraft types, but even so I basically just plonked him in the left hand seat and said those immortal words, "You have control. Take us flying". And he did. Obviously we'd pre-briefed with the checklist; we'd discussed the V-speeds (that's the speeds that you fly in the different phases of the flight, so, take-off speed; climb speed; best glide speed; maximum flap speed; circuit, base leg, final approach and threshold speeds) but he really just flew the entire sortie himself, with me as Command Pilot only by name. Never flown the type before and he took to her like he'd been flying her all his life, including a lovely wing-down crossind landing, and he loved every minute of it. She really is such a delight to fly.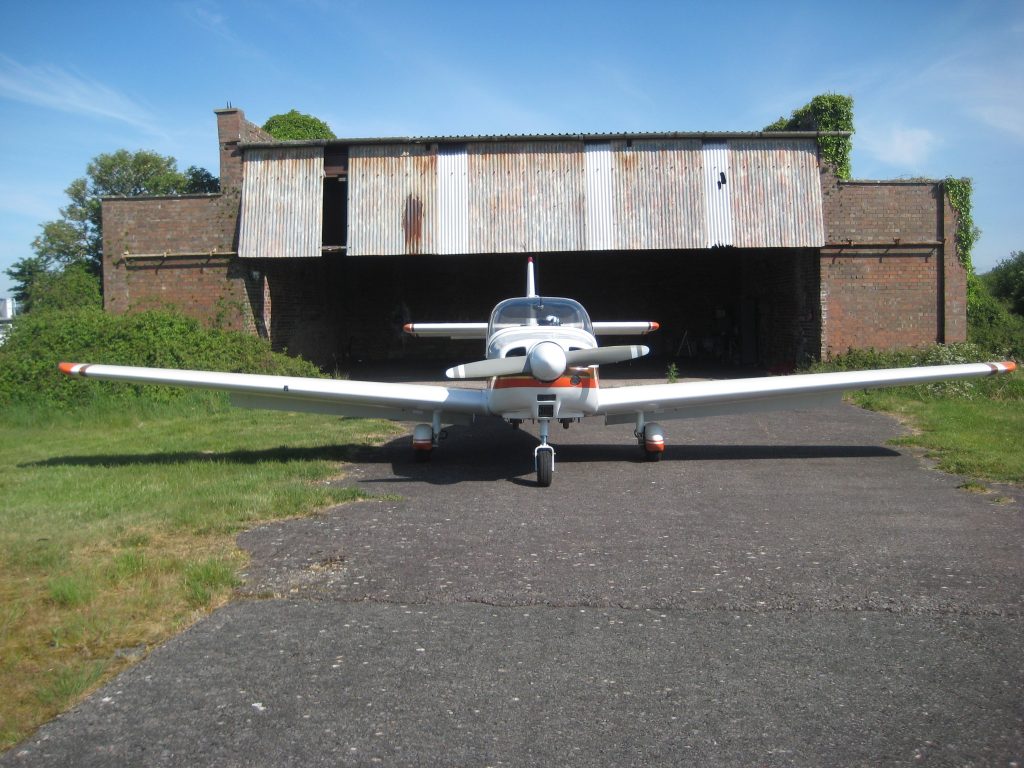 And the visibility is enormous. That bubble canopy with the low coaming means you have a huge field of view. Couple the view with the lovely, light handling, and you've got a gorgeous aeroplane. I mean, when you go back to flying a Piper Warrior – which really is itself a delight to fly – the Warrior feels like a bit of a tank in comparison, and the canopy framing makes you feel like you're shut in a box. Although the RS-180's performance is more or less identical to the Warrior's, the RS-180 is a much nicer aeroplane to fly – and that really is saying something, because the Warrior has always been high on my list of favourite aircraft types to fly in terms of handling.
In this next shot, the aeroplane's starboard flap is easily visible, set up for preflight inspection at the full 50 degrees of extension.
This aircraft has 'split flaps', meaning that just the underside of the wing drops down to form the flap, leaving the upper surface of the wing in place. This is as opposed to 'slotted' flaps like on a Warrior, or 'Fowler' flaps like on a Cessna 152, where the flaps extend backwards and downwards, sort of on rails, like on a jet airliner. But this aeroplane has split flaps. This does mean that you can't see from the Pilot's seat whether the flaps have extended or not, but there's never any doubt because you can feel it in the way the aeroplane flies. If you zoom in on the next picture, you'll just about be able to see the way in which the flaps have a sort of 'recess' above them in the wing; this is where they go when they retract. 50 degrees of flap is a very effective setting and you can get down – landed and stopped – in just a couple of hundred yards with them, if you know what you're doing.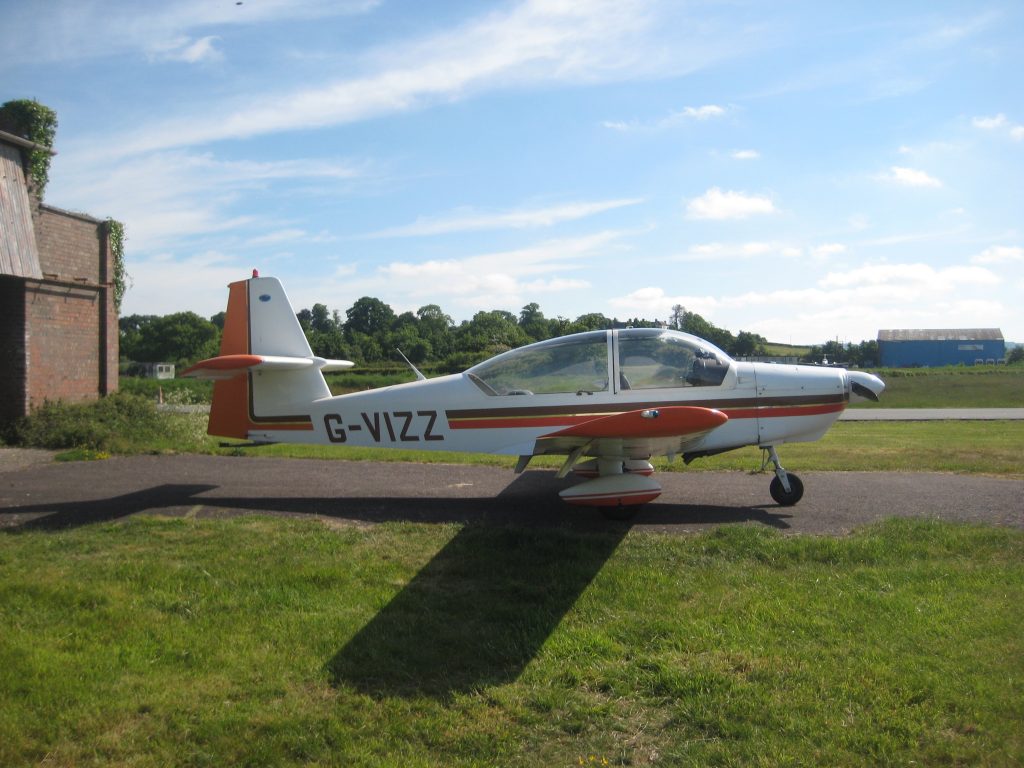 Also visible on the above pictures is the glider towing system I mentioned earlier; it's that sort of black 'stinger' thing that is sticking out under the tail. This is kind of an aeroplane 'tow-bar' that enables the aircraft to tow gliders into the air, on a rope behind her. 'Aerotowing', as it is called, is one of the two main launching methods for getting gliders into the air in gliding clubs all around the world, the other method being the 'winch launch', which is very much what I imagine it's like being catapulted off an aircraft carrier[2] 😉 . When I flew gliders back in the early '90's, I had a number of aerotows, and they were great fun. As far as any of us know in the Owners' Group, G-VIZZ has never been used for glider towing. But for the sake of completeness, here's what an aerotow looks like in practice:
I love this next shot. This is the view forwards on Exeter's Runway 26, just before opening the throttle for take-off. For me, there are few sights in aviation more evocative than this one. Today, everything has come down to this: all the preparation and planning; all my checks are complete; the aeroplane is fuelled and my route, radio frequencies and V-speeds are written on my kneeboard. Everything is ready; it's a perfect day for flying, adventure beckons and it's somewhere off in this present direction of 260 degrees magnetic (that's what the '26' in 'Runway 26' means). The reason the airport is there is to enable aeroplanes to land and take off, and now it's my turn and I have the runway all to myself. So, it's brakes off, full power, and away we go!
Here's a video demonstrating the unparalleled visibility that bubble canopy gives. Taken from over Ashburton in Devon on that same day in May 2020, this video begins looking out East towards the English Channel, over Torbay, and then the camera swings all the way round past Dartmoor and over the tail towards Bovey Tracey. Note how the only canopy frame that gets in the way is over my right shoulder, as the view comes round towards the aircraft's tailplane:
I think that's quite breathtaking 🙂
This is a still shot of the Teign estuary in the foreground, and Torbay in the distance, taken from over Chudleigh, Devon, again through that magnificent bubble canopy: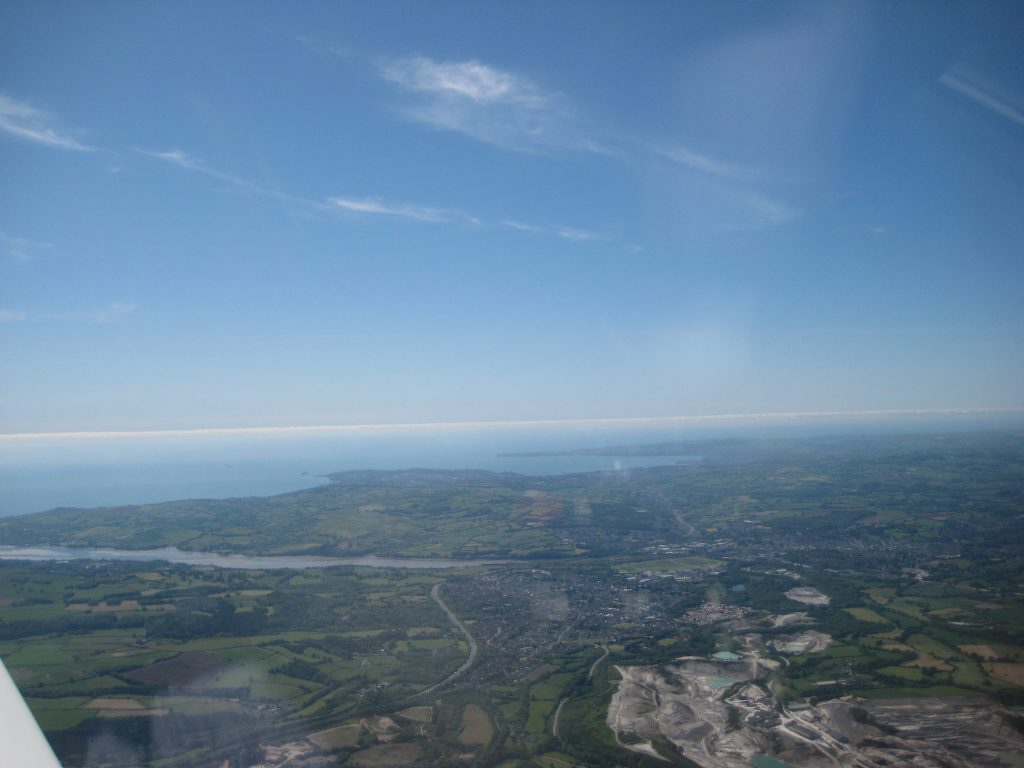 I mean that view is just colossal. Here is a view of Ivybridge from 3,000ft, demonstrating the superlative view downwards and forwards:
This is the now-closed Plymouth Airport. It's the place where I learned to fly in 1996-7; there are plans to reopen it, but we shall have to wait and see – while all the politics are sorted out.
Here's a lovely view of the River Plym estuary, looking roughly south-southeast:
After this, returning to base, then, via the pretty little grass strip at Bolt Head. I intend to do a landaway here sometime this summer, and I have been practising short-field operations for this very reason[3].
And then the return flight to Exeter in all that spectacular visibility, via the magnificent Start Bay:
I mean it just doesn't get any more gorgeous than that 😀
The next picture is of G-VIZZ tucked away in her hangar after the flight, with the covers on. With a canopy that huge, any bird droppings or dust of any kind on the perspex is always going to spoil the flying experience, as well as compromise safety and maybe even damage the plastic (by etching it), so it's important to put the large canvas cover on her before leaving her for the day. I haven't had to do this at night yet, though! But I'm sure I'll be fine; I have flown VIZZ as it was getting dark once and all I needed to do when I put her to bed was to plonk my car on the  taxiway with the headlights on, shining them into the hangar 😉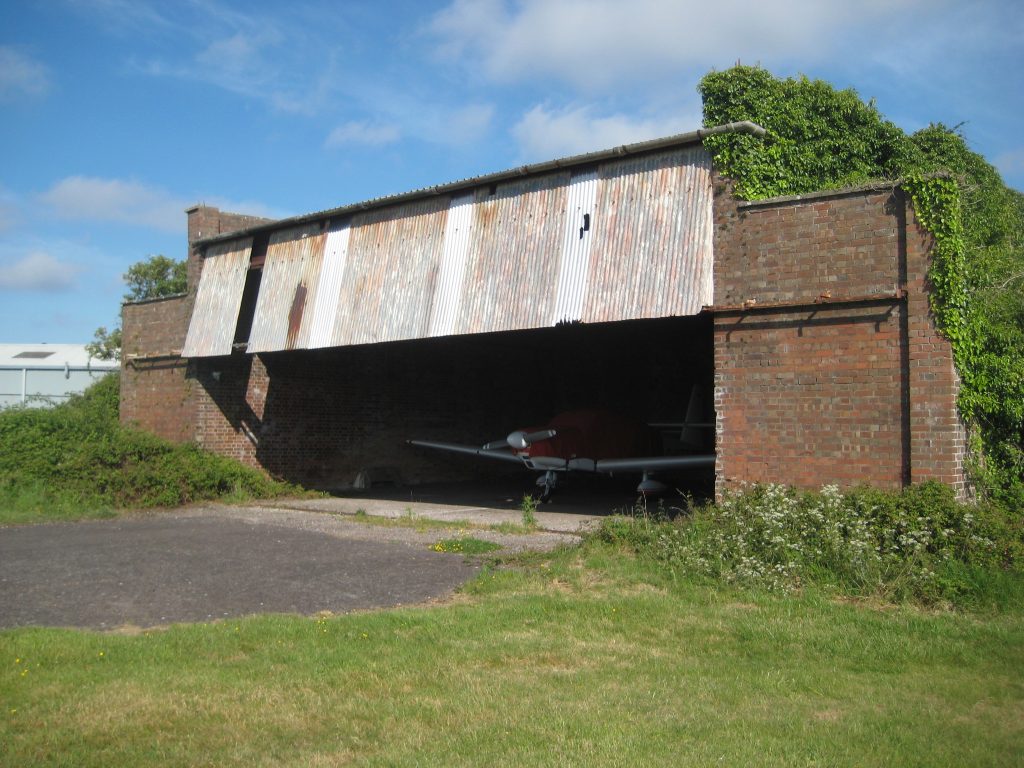 Just one more photo, and this one is not of G-VIZZ but of a German-registered RS-180; I have included this shot to show the shape of the wing on this aeroplane type.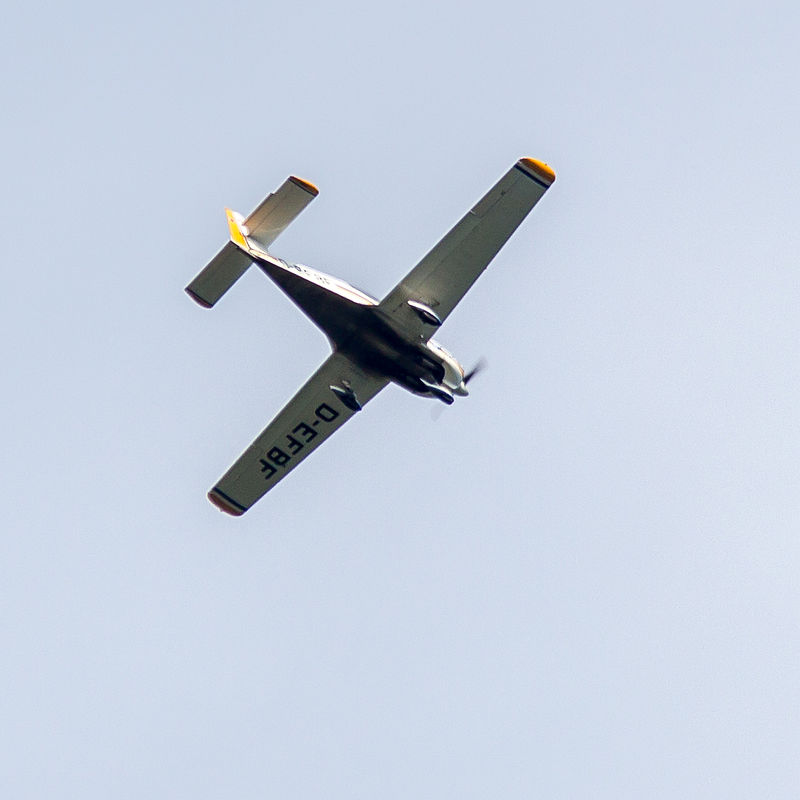 So, there we are. The RS-180 Sportsman, easily the sweetest-handling aeroplane that it has ever been my privilege to fly.
I love those words I used for David: "You have control. Take us flying".
There's no better light civilian aeroplane in which to do that.
Footnotes

⇧

1
Actually, there is a way of doing flour-bombing. We can use the glider-towing attachment. If we put the flour bomb in a net bag and attach a metal ring to the bag, we can clip that ring into the towing apparatus as if it was a mini-glider, then release the bomb by using the yellow glider release lever pictured above. Simples!

⇧

2
I realise that there are more than just two methods of launching gliders, but aerotowing and winch launching are far and away the most commonly-used

⇧

3
Edit: In between writing this article and its publication, I did just that, and landed at Bolt Head. Here's G-VIZZ on the ground at Bolt Head airfield, 17th July 2020.

http://www.flyinginthespirit.cuttys.net/wp-content/uploads/2020/07/20200717_134723-300x169.jpg 300w, http://www.flyinginthespirit.cuttys.net/wp-content/uploads/2020/07/20200717_134723-768x432.jpg 768w, http://www.flyinginthespirit.cuttys.net/wp-content/uploads/2020/07/20200717_134723-1536x864.jpg 1536w, http://www.flyinginthespirit.cuttys.net/wp-content/uploads/2020/07/20200717_134723-2048x1152.jpg 2048w, http://www.flyinginthespirit.cuttys.net/wp-content/uploads/2020/07/20200717_134723-1200x675.jpg 1200w" sizes="(max-width: 604px) 100vw, 604px" />

Some other aircraft had flown in that day too; you can see them in the background. And in this article, I have left the original essay text in place, because I will undoubtedly be going there again 🙂

But on this occasion, I flew in, went and did a coast path walk, then had a picnic in the shade under the tail, then flew back to Exeter. What's known as a 'grand day out', you know.