"God is Love, But…"
To me, this is one of the most infuriating phrases used by people trying their hardest to squeeze Bad News from the Good News.
God is Love (or God is Good)…BUT.*
Religion always inserts a 'But'. And, invariably, the 'But' implies some conditions, some Rules or other that we have to abide by in order for the 'God is Love/Good' bit to apply to us personally. In these circumstances, the word 'but' introduces the language of legalism. There's always something we have to do, say, believe, think, whatever, in order for us to 'qualify' the God is Love part. There's always some reason why we might not be able to claim the 'benefits' of 'God is Love' for ourselves.**
But Grace says this is an utter pile of tosh.
Grace is an unconditional gift. We can't earn it; nothing we can do – or fail to do – can change it; and we can't obtain it for ourselves. It's something that is given by God, and God alone. It is not administered through any religious ritual, organisation or bureaucracy, nor is it by any means the exclusive property of any particular organisation, either religious or secular. Grace is a gift from God, entirely, wholly, and without exception.
Once we get a handle on this magnificent concept, it transforms our beliefs and indeed our entire lives. No longer are we burdened with the need to conform to a particular human-imposed choice of ruleset in order to be 'acceptable to God', because Grace shows us that we are already acceptable to God.
Grace is a gift, not a wage. It's something we are given, not something we earn. That's why St. Paul, in Romans 6:23, contrasts the concept of earning death through sin, with the gift of Grace from God, when he says, "For the wages of sin is death; but the gift of God is eternal life through Jesus Christ our Lord." Using Hebrew antithetical parallelism, Paul contrasts our best efforts to please God – 'sin' – with the unearned, unambiguous gift of eternal life in Christ.
Once you see that concept, your entire view of life changes. Gone is the focus on 'sin' – mine and others' – gone is the need to judge others, gone is the need to try to please God. Part of the freedom that his releases into is in realising that we already please God just by being ourselves!
With all this in mind, I would like to let you read a recent piece by my friend Phil Drysdale, whose work I have published in my blog in the past, and which I will undoubtedly be publishing more of in the future. He begins with the 'God is Love, But…' idea and then takes our thinking in a slightly different direction from mine. Over to Phil:
---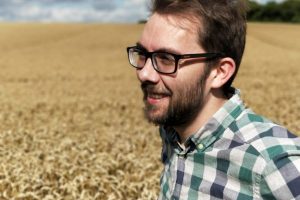 "God is love" is a wonderful truth from scripture.
But I find far too often it fails to ends there. Often it's "God is love but…
…He is also just."
…He is also holy."
…He is also righteous."
Etc.
What this betrays is a terrifying truth:
Many Christians don't think love is just, holy or righteous.
So much so, that when we talk about love we must temper it with our concepts of holiness or justice etc.
What it suggests is we either have a very misguided notion of what love is or a very misguided notion of what holiness, justice and righteousness are.
I would suggest it's the latter three with which we struggle.
You see to say God is love, to me, 100% encapsulates the statements "God is just" or "God is holy."
His love is a holy love. His love is a just love.
The issue we have is our concepts of holiness and justice tend not to be very loving.§
You see, the world has witnessed two forms of justice over the ages. There is a justice that is tried and tested. It dishes out punishment upon those who wrong it and "mercifully" hands out forgiveness to those who make penance.
Its focus is on people getting what they deserve.
But there is also another form of justice, albeit one much less common. One that forgives those who do not know what they do. One that calls everyone to a ministry of reconciliation and of healing. One that forgives it's enemies seventy times seven times.
It is a justice that does not look to punish sin but instead restore the one who is lost to the sin and heal those harmed by the sin.
So the question is not, is God just? The answer to that is obviously yes. The real question is which kind of justice does God represent?
If your God is just in the sense of handing out punishment for sin and only forgiving those who do the right thing or believe a certain thing then yes… "God is love" will never be enough for you. In fact, it might be quite a problem for you without a clause to temper it. (unless you change the definition of love all together.)
However if your God is just in the sense of forgiving people solely based on His goodness not their actions or beliefs. Restoring people who have been hurt, abused and suffered unspeakable pain. That God… well… He is love. Plain and simple.
"God is love" is more than enough and says it all.
So my challenge to you today is that – if "God is love" doesn't say it all for you then do you need to revisit who God is to you? Why do you need to temper God's love to keep your view of God alive?
§ I'm aware that many could argue the exact opposite – that our form of love is not holy or righteous. To this I simply say, which do you see portrayed in the life of Jesus and described so iconically in 1 Cor 13?
---
*(And it's not at all what the Bible actually says in 1 John 4:16!)
**Unlike in the Psalms where it says, 'Praise the Lord O my Soul, and forget not all His benefits' – Ps 103:2 – without specifying any conditions. Go figure.