For an  explanation as to why I have a row of Mormon boys as my header image, please see the footnotes 😉
In my last post, Theophilus*, I described how I feel like I am about to embark on another Dark Night of the Soul. While I could be wrong, of course, I did describe it as such because I felt I recognised the signs of its approach.
In the comments for that post, regular reader Jeremy suggested I try to blog a little on what my thoughts are, which would be helpful and interesting. I think that really is an excellent idea, because that then means that someone with a keen observational mind and an analytical brain (me!) would be making those observations and writing them down for others. The only downside to the idea is that the Dark Night might involve taking time off blogging or even taking time off thinking and observing too much. Sometimes the idea of the Dark Night is to take time off of having any commitments at all, so, subject to those caveats, I will do what I can. And I'm going to make it into a 'series' so as to keep the posts indexed in some fashion.
Let me make it clear right from the start that this Dark Night is not some form of depression or other mental illness. It is a normal and healthy part of spiritual growth, and, because I have been through it before, I am genuinely looking forward to the experience itself and also to the fruits it will produce. Granted, I am still heartsick from my loss of Fiona – even though that's now 28 months ago – but this is a different thing entirely. This is spiritual, not emotional, and going through times like this only serves to highlight the difference.
Now, to my observations.
The primary observation at the present time is this: this particular Dark Night has been-precipitated, as was my first one, as a result of interactions with nasty grey legalistic people, my reactions to them, and the need to change my attitudes in my dealings with them. So, dealing with these people. And I need to spend time away from them. Fortunately, unlike those who have these people in their immediate families, I have the luxury of being able to remove myself from them.
My son refers to these people as NPCs. 'Non-Player Characters', you know, like in a video game. Every time you approach one of these in-game characters, they act all familiar and 'Hey how are you, buddy?' like they've known your game character all his life. If you come back to them in-game after half an hour or so, they say the exact same thing – because of course they are programmed to. And that's what these people are like; they are programmed with all the 'right phrases' that they trot out willy-nilly and – more worryingly – they also have all the same programmed attitudes. It's almost as if they have no colour; no personality. The NPCs. What a great analogy.
As my readers will know, about twenty years ago, my first Dark Night began, in which I avoided all church things like I would Flat Earthers 😉 Every time I went in a church, it reminded me of why I didn't! That Dark Night lasted fifteen years as I was detoxed from all the harmful attitudes that my twenty-one years as an Evangelical Fundamentalist had given me.
Five years ago, I had a dramatic re-entry into the 'things of God' (although I was never really away from Him per se) and He has carried me through losing Fiona and all kinds of other stuff. And my faith life blossomed.
But recently something in me has just snapped. I have so had enough of the NPCs who take it upon themselves to 'love the sinner, hate the sin'…whatever happened to 'mind your own business'? And these people cast such a bad light on my wonderful Jesus and my Father God…and I have to make this observation that at present I feel that if I never go into a church meeting again it will be too soon. That, for me, is a characteristic of a Dark Night experience. In a way, being with other Christians – at least in a large meeting – is such a 'trigger' for me that it can be harmful. Also, being Aspergic does not help in this regard; I can think of many places I'd rather be than in a room with lots of people!
I'm not saying that people at my Church are NPCs; they're not. They are lovely. And I know for a fact that part of what Father is doing with me at the moment is that He's not asking me to go to Church, so in a way it's almost as if that lack of Church prompting from Father suggets that He's the One Who's leading me into the Dark Night – and that would come as no surprise to me. And in a lot of ways I have been at this point for a long while, not having been to the main Church meeting for about eighteen months, although I was in a housegroup for a while (it recently came to an end; not my fault, I hasten to add!)
Regarding the NPCs, it's always the same. If there are two possible interpretations of a Scripture, these people would always rather swing towards the 'bad' interpretation and call it 'loving', rather than swing towards the actually 'loving' interpretation. And coming up against this constantly has made it so that I've so had enough of them. I am so sick of religious people like these, and as a sad corollary to that, I am avoiding all things to do with faith at all, because there are just so many triggers. I'm staying off Facebook because there are people on there whom I care about but who also have a list of NPC 'friends' as long as your arm, who trot out the same programmed crap in response to my friends' posts again and again. I just need a rest from it all, and that might take fifteen days, or it might take fifteen years again.
To quote my reply to one of my friends on Facebook, whose post was being ripped at by grey** NPC miseries,
"But the truth of it is that I have had enough of these people. Completely had enough. From now on, it's an instant block from me. We are giving dogs what is sacred and they simply turn and tear us to pieces. From now on, my job is to minister to the people whom these nasties would seek to destroy, while ignoring and blocking the nasty ones. These are deadly, grey, dull people who spread a gospel of horror, hate and lies, and I've had enough of them. There is enough poison in life in general without people like these, who claim to represent a loving god, from bringing even more toxicity. Enough is enough. Let them wallow in the mud of their shipwrecks."
(And that's partly where my recent post. 'Shipwrecks', came from)
One such grey person thusly replied to my exhortation to reconsider the doctrine of Hell:
"Don't need to. Hell is forever. You don't make the rules. God does. Your job is to obey, not figure out God's logic."
Case in point. Cold, grey, dull, lifeless. In fact the voice of the Pharisee is always cold, lifeless, grey, dry, dusty and joyless. By their fruits you shall know them (or in this case, the lack thereof)
Remember:
Dry
Dusty
Grey
Cold
Joyless
Lifeless
Jesus spoke of them as tombs – whitewashed tombs. Lookin' good on the outside; full of rot and corruption inside. And these are the people who accuse all mankind of being 'unregenerate sinners…' for goodness' sake! If your life looks like that, you need to get it sorted. But then, if your life looks like that, you probably are not reading this because you will have consigned my blog to the heresy pile long ago!
Another key phrase, when given a joke that falls outside the lines of what their group think acceptable, is 'We don't think it's funny'.
Like this one, for example: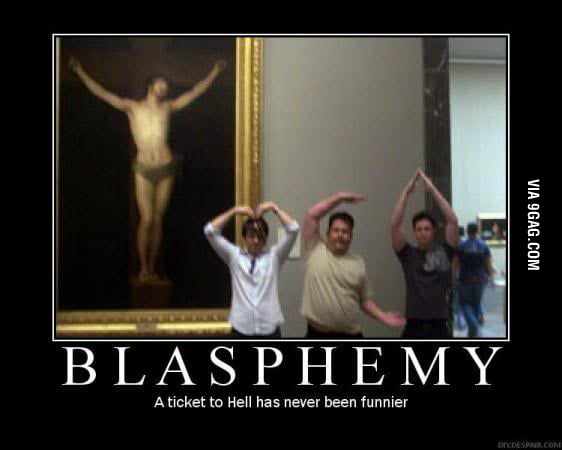 "We don't think it's funny", they would say***. Who's 'we'? That sort of prohibition only has power when there's a group of them all agreeing with each other, and presumably nodding sagely, and they find like-minded miseries to sit with.
Even talking to these people is a downer. This is not what the kingdom of God is about! If it's not righteousness, peace and joy, then it's not the Kingdom of God.
And I find, as a direct result of my interactions with grey NPCs, that when I'm reading my Bible, my reading voice – you know, the voice that I hear in my head as I read – sounds just like the grey NPCs. And so, unless I feel particularly inspired, I do not go to the Bible all that often. True, when I do get such inspiration, that voice is absent…maybe the lesson there is to not read the Bible unless that voice is absent… This is another of the signs of the Dark Night, and obviously one I have learned from already! 😀
Another thing is that, in some ways, I don't feel as close to God as I normally do. I know He's there; I still feel the Spirit burning inside. Or maybe that's indigestion. And worship means little; once again, I can hardly bear to hear the Songs of Heaven. These are two more of my signs of an impending Dark Night.
I think that one of the main things I am looking for in this Dark Night (although of course Father probably has other plans!) is that I need to learn how to deal with the Grey People. The NPCs. If indeed there is any dealing with them. By 'dealing with' them, I mean how I personally deal with the effects of interfacing with them on a theological level. Certainly we're not going to change them; not that I would want to – that's not my job! And indeed, this brings me to another point about the NPCs and how to cope with them, and it's this.
When we criticise the judgemental, their standard response is always [predictably] "Ah, but now you're judging me!" It seems to be the privilege of the judgemental that, although they started it, still they think we are wrong to point out their judgementalism; that we are ourselves being judgemental in our pronouncements against their judgementalism. I sometimes think that they set these things up just specifically for that purpose. He who accuses first has the upper hand, it seems!
Talk about a no-win situation!
So, how do we solve this conundrum? How do we tell these people what they are doing without ourselves being judgemental, or even giving them the excuse to say that we are being judgemental? Is it even possible?
I'm 56 years old and I am still unaware of an answer. Maybe that's something I will learn in this Dark Night. But I wouldn't bank on it. [Edit: Check out this article for a possible answer to this]
And please be aware that I am actually not blaming the NPCs; all I am doing is to describe how their actions and my responses/triggers have precipitated this new Dark Night. For others, their own entry into a Dark Night will be highly individual, and indeed probably unique to that person. Also, I have not been forced into this 'course of action' by these people, because a) it is not my choice anyway, and b) they are not that powerful. The main thing is my response to their trigger reaction in me; that's what I need to work on.
This may well read like a rant, and I do not apologise for that. What I need to show, above all else in this series, is honesty. Because it will be of no use to my readers if it's not honest.
And anyway I am allowed to rant. There are no rules in a Dark Night! 😉
I hope this is helpful.
Peace and Grace to you all.
---
*Pirated from St. Luke in Acts 1:1 😉
**What's all this about 'grey' people? Well, one of the characteristics of being in a religious cult (which I believe Evangelical Christianity is) is that everyone has to be the same; everyone has to believe the same things, have the same sense of humour (none) and all that sort of thing.
Imagine a group of Mormon missionaries lined up for a game of 'Spot the Difference' and you'll get what I mean.
And that explains the header image (it's actually taken from a Broadway show called 'Book of Mormon' – and they're not real Mormons; they're actors...) 😉
(Not saying Mormons are NPCs; I don't personally know any so I can't say. But their missionaries, at least, do all dress the same and will therefore do for the purposes of illustration).
And so, despite each NPC being technically an individual, in terms of faith they are not; there is no colour, no variety, nothing interesting going on. Hence, grey.
[Edit: Apparently, the term 'NPC' is nowadays common parlance for people who always say the same, predictable things. Shows how far behind the times I am]
***Clue: YMCA 😉
---