Sadly, my Auntie Betty died last year (she was 90!), and she kindly bequeathed me a money gift in her Will.
I always like to use a bequest to buy something that will remind me of the person who left me the gift. So, for example, a few years ago my godfather Geoff died and left me £250. We used that money to buy an awning for our caravan, which was very fitting as Geoff was an avid caravanner. And so we think of him when we use the caravan and the new awning.
Since my Auntie Betty was involved with building Lancaster aeroplanes during the War, I decided to buy an aviation-related item with her gift. And so I bought myself a new flying headset. I have been flying light aeroplanes for over 20 years and, up until now, I had never yet got myself my own headset, instead using flying club headsets which are often less than perfectly functional.
The purpose of the headset is four-fold: a) to shield the ears from the loud noise of the engine; b) to enable intercom communication with passenger(s) in the aeroplane; c) to let me converse with the air traffic controllers and other helpful agencies on the ground; and d) most importantly, to help me to build up a picture of what's happening in the area in which I am flying, up here in the sky and on the ground too (aircraft about to take off, that sort of thing). This is what's known as 'Situational Awareness', or 'SA'; a skill that takes time to develop and which is vital to survival in the air. SA is basically knowing what you're doing, where you are, and what's going on around you. It is gained by a combination of visually searching the sky for other aircraft; keeping an eye on the weather, cloudbase and wind direction; being aware of the condition of the aircraft (fuel state, engine behaviour and so on) and of your own position, course, speed and altitude/height; listening to the radio chatter from other aircraft and relating their information to your own situation; liaising with radar controllers who perform a most useful service by providing an extra 'pair of eyes', and more*. And that of course is the part where the headset comes in.
So, here's my new headset, a brand-new David Clark H10-60, a top of the line passive noise reduction headset which is the best you can get without going into active noise cancellation technology – but those types of headset cost nearly £1,000 and I have always found passive headsets like this one to be perfectly adequate for my kind of flying.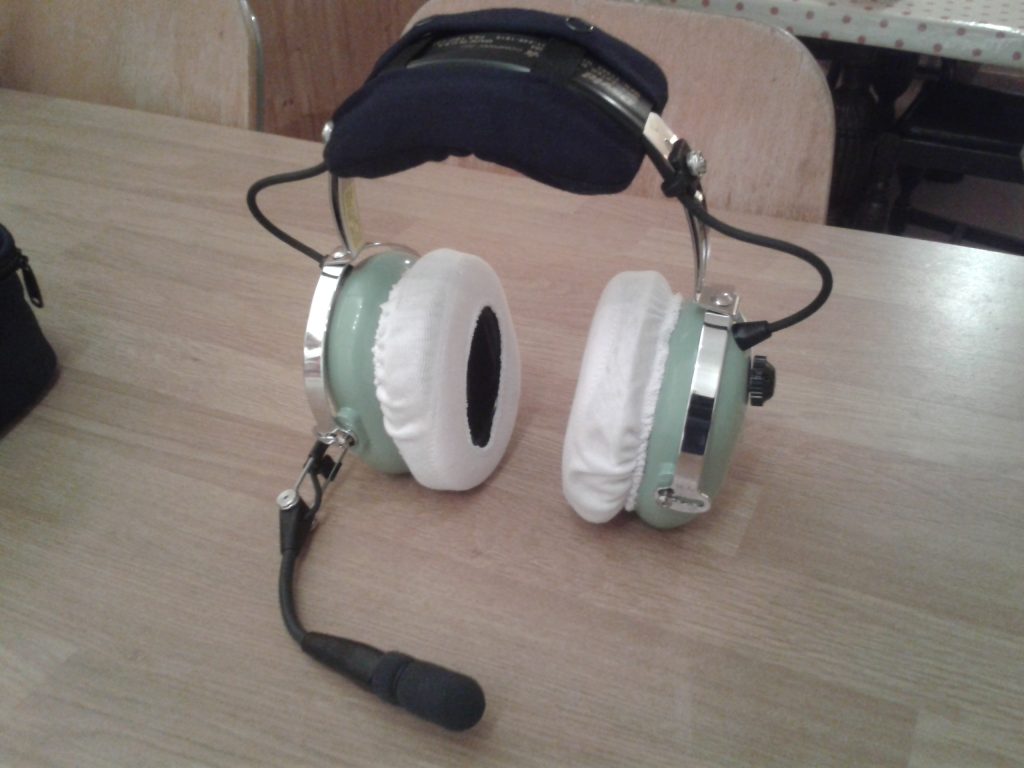 It came with free cotton ear covers (that's the white speaker covers in the photo); these serve to keep the headset dry in use – flying an aeroplane can sometimes be hard work, and you can get quite sweaty at times! Also, there was a free case to store the headset in when not in use:
And I imagine my cousin Pete (Betty's son) will be pleased with this idea, because he's a Pilot too and will totally 'get it'.
Here's the headset in place. I don't like doing selfies and prefer to avoid the limelight, but this one is kind of important as it is intended to show the headset in use. Granted it makes me look like a Cyberman off Doctor Who, a picture of which is included for comparison 😉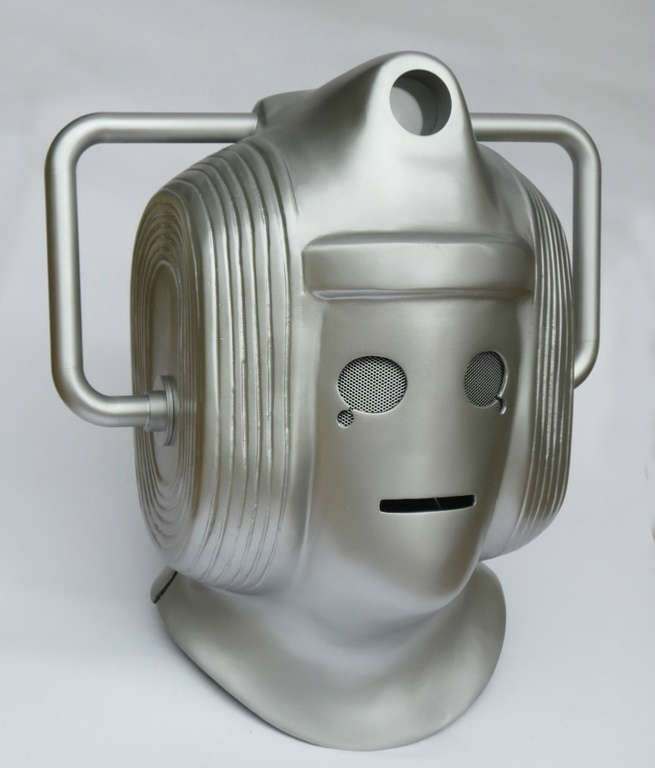 I have already flown the headset a good few times and I'm very pleased with it; it's really effective, it is very comfortable and it's clean, and of course it also reminds me of my Auntie Betty whenever I fly. Which was part of the idea, of course.
To me, it'll always be 'Auntie Betty's Headset'.
Which is nice 🙂
---
*Unfortunately, SA is a skill that is all too lacking in many of today's car drivers. Most of the idiots I see on the roads here in Devon are skilled at 'Situational Unawareness'. They haven't a clue what's going on around them and probably don't even know what song is playing on their stereo. It's quite scary if you think about it. So I try not to 😉 In an aeroplane, they wouldn't last thirty seconds…
No doubt there are drivers of the same calibre where you live 😉