This post, after my two recent posts (here and here), completes what is almost a mini-series on the dogged insistence of some believers on following Scripture to the letter and even placing it above Jesus, and thus misusing it completely.
The other day, I read a terrible piece criticising the book (and the new movie) The Shack. The book and movie have brought a lot of people into wide-open freedom already, and I have no doubt that many more will be touched by its message. Personally, I love the book and I can't wait to see the movie (which comes out in June here in the UK). But it should come as no surprise that 'religious' people find that sort of thing difficult – the idea of people finding complete freedom – and so the article was critical, dogmatic and judgemental. The article is here if you want to try to stomach it. I don't recommend reading it unless you have a bucket handy, it's so negative.
But the thing that I found most disturbing was that the author of that article wrote this (and I hate to contaminate my blog with this sort of thing):
"In The Shack, Mack (the main character) finds true relationship with God in contrast to those who have traditional Christian beliefs based on the Bible. This subtle message qualifies as a wind of doctrine as mentioned in Ephesians 4.
"There is an undertone within The Shack, that relationship with God is something independent of the written word of God, and nothing could be further from the truth.
"There is no sweeter, no more assuring, no more real and living relationship with God than knowing him through his Word, especially when the Word is mixed with a prayerful heart. Earnest and heartfelt time in the Word of God, is time spent with God.
"Relationship with "the god of The Shack" is not true relationship with the Living God, because it is relationship with someone other than the true God we fellowship with in the scriptures.
"It is through the knowledge of God revealed in his holy written word that we grow in our relationship with God through Jesus Christ, and as we grow in the Lord we embrace sound doctrine and good biblical theology which makes us spiritually healthy."
I have to say that I actually feel physically sick from reading this, even if only for the purposes of debunking it. (And I don't have a bucket to hand…) He's saying that the only true 'relationship' one can have with Jesus is only and entirely through the Bible.
And this is what I am most concerned about. Sure, some people may well have experienced only that 'Bible relationship' with Jesus, but for him to say that anyone who has a personal relationship with Him, which transcends that of the Bible, to say that that person is wrong, is plain disrespectful and ignorant. In fact, 'Ignorant', in its true sense – lacking knowledge – is exactly what it is. These people know not that of which they speak.
I know what it's like; when God speaks through the Bible, you do indeed 'hear' His voice inside you. I do understand that for any believer reading the Bible, there is indeed a sweetness when God is speaking through the Bible in that way. I fully agree with that. I have experienced that. And that sweetness is sweet indeed. It's the witness of our spirit and the Holy Spirit within us.
But to name that sweetness as the 'ceiling of sweetness', as it were, that it doesn't get any better than that, only means to me that that writer has never experienced anything better than that himself. I'm not saying that my spiritual walk is superior in any way, just that there is more, much more, than that fellow has yet plumbed. It is suggesting that they have only experienced God through the Bible; that they have never experienced the powerful reality of God actually walking and talking with them in their daily lives; they have never experienced anything other than just reading about Him in their Bibles and the sweetness that brings. I have. I can testify to that personally, and my regular readers will be aware of just how much He has brought me through over the last few months in the strength and love of that relationship, since the loss of my beloved wife, Fiona, to cancer last October. The Presence of God is an almost constant, bubbling-up wellspring of joy, power and freedom deep within. (Jesus spoke about this in John 4:14 and John 7:38).
Of course, that writer has it all covered, by asserting that the "…relationship [is] with someone other than the true God", thus passively-aggressively hinting that it's the Enemy with whom I fellowship*. Well, there's a simple test, isn't there? By their fruits you shall know them. (Mt 7:16) If my life shows the fruits of the Spirit, then it's a life lived by the Spirit of God, and not by any other shady spirit, thank you very much. And they're a cheeky so-and-so for trying to intimate that I'm not 'in Christ' 😉 Which I am, and I know it for sure. It can happen that people realise that God speaks through the Bible, and the sound of that Voice they make synonymous with the Bible rather than God. I liken it to an iPod. With an iPod, what comes through is the music but the iPod is not the artist that did the music. Similarly, the Bible is (one of the) means by which God speaks, but it is not God and some people make the mistake of deifying the Bible for that reason.
Does this not demonstrate a classic example of people like those Jesus was talking to in John 5:39-40?:
"You have your heads in your Bibles constantly because you think you'll find eternal life there. But you miss the forest for the trees. These Scriptures are all about me! And here I am, standing right before you, and you aren't willing to receive from me the life you say you want" (Jn 5:39-40 Message).
And so, I want to share with you today a little analogy I wrote some time ago, illustrating this relationship with Scripture against a Relationship with Jesus Himself. Here it is.
It's like a sad middle-aged man still living with his parents, even though he's met the girl of his dreams. The Bible leads us to Christ; once we have the relationship with Christ, it should ideally become the main relationship, not completely superseding the Bible relationship – which still exists – but still it is the main relationship. The sad man moves out of his parents' house and marries the girl. He still has a warm, loving (and somewhat relieved!) relationship with his parents, but now his main focus is his wife. And so it is with Jesus. He is now the main focus and the Bible has done one of its main jobs which is to direct us to Him.
I understand that trusting a living person rather than a book is far harder; with a book you know where you stand; it's all written down (but even then it's open to misinterpretation!). The thing is that you stand, and you stand, and you continue to stand. There is no moving forward as God is not allowed to say anything that is not either 'in' the Book, or at least closely related to it, in that you hear evangelicals all the time saying that the Spirit will not go against anything that is in the Bible. That is neither Scriptural nor true. He will definitely go against things like hamstringing donkeys and battering children, killing all the inhabitants of a city – and even against the stuff in Job where the 'friends' are supposedly proclaiming God's word but in fact they are doing nothing of the sort. Jesus said' "There is so much more I want to tell you, but you can't bear it now" (Jn 16:12) and this sort of thing – the Relationship with the Real and Living Person of Jesus – is precisely (but not exclusively) what He was talking about.
Far be it from me to denigrate someone else's experience of God – for that is indeed what they get through reading their Bibles, as we have already seen. If someone wants to have a relationship with God through the tight limitations of a Book, that's all well and good, and good luck to him – although if he stops there, with the Bible, then he's missing out on so much more. But to criticise the true and real relationship of another believer in Christ by essentially saying that that relationship isn't allowed, because that relationship not only exceeds but indeed transcends the words in the Bible – that's just not on.
And to condemn someone else's real and living relationship with Jesus and claim it is Satanic (which is what they are passively aggressively claiming) just because it doesn't jive with their interpretation of Scripture – now that is reprehensible.
So, I would say for these people: it's time for them to trust Jesus, both with their own lives, and with others' too – which are in any case none of their business (Jn 21:22). It's time to stop criticising and judging others' relationship with the Lord. Jesus is more than capable of looking after His Church; His people, and drawing near to each of them as He sees fit.
It's strange, really. My header picture was originally intended to show somewhat cynically that a relationship with a Book is no replacement for a Relationship with a Person, specifically the Person of Jesus by His Holy Spirit. But, you know, the primary function of the Bible is to lead us to Jesus; in some ways, then, we can indeed meet Him in its pages, thus enabling us figuratively to 'hug' Him like the picture shows. But the thing is that Jesus exists outside the Book, far more so than He does inside the Book. And that's the message I'm trying to get across. You can't limit the Creator of the universe to a book, no matter how special that book might be. There is far, far more to knowing God than simply what we find in the Bible. The Bible is, in fact only our starting point – it introduces us to Jesus, it introduces us to the loving Heavenly Father, and it instructs us in God's ways. But it must be read with Jesus in mind – remember the Scripture's primary purpose is to lead us to Christ!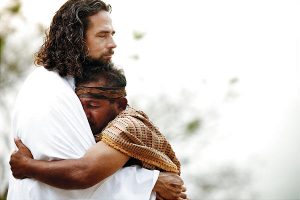 ---
*I know he's not writing to/about me specifically, but as one who agrees with all the theology in The Shack, it's as good as him writing about me.