I've been sharing a lot of teaching debunking the doctrines of 'Hell-fire' recently, so I thought I'd intersperse all that dark stuff with something of a more tangible beauty. I mean, working against bad and harmful theology is a good thing, but sometimes it gets a bit too much; unfortunately, it's unavoidable that sometimes we need to focus on the bad stuff in order to trash it.
So I thought we'd come up for some air for a little while. It won't hurt if the last instalment in Lee's series of talks waits until next time 🙂
I am extremely fortunate to live in what is probably the most beautiful part of England. Don't get me wrong, I love the Yorkshire Dales, of course, having been raised within just a few miles of the edge of the National Park. I love the Lake District; Wasdale Head being one of my favourite places on Earth.
But South Devon, where I live, is an amazing place of breathtaking beauty; a place which does bear some similarities to other, more remote, parts of the country. It's a place where rural and urban are mixed in a delightful manner, but to cap it all we have the sea close by too. Devon is not as remote as, say, Pembrokeshire or Cornwall, but it does have the advantages of any peninsular environment in that the roads are not as busy as they are in other parts of the country (because they don't really lead anywhere else apart from further into the peninsula!), and it's generally not industrialised. Out on a peninsula, we tend to find that we get forgotten by central Government, which is not always a bad thing.
One area near where I live is called the 'South Hams', and it is classified as an AONB or Area of Outstanding Natural Beauty. And nowhere is this more the case than in the area around Dartmouth and Kingswear, a kind of 'peninsula within a peninsula'. Flying over this beautiful landscape is always a delight, of course, but I do like to get out into the area on foot too as often as possible.
Being very much an early morning person, last week I went out before dawn to an area near Dartmouth called Froward Point, where also is found the Brownstone battery, a wartime coastal defence site. This is a remote National Trust property very close to Coleton Fishacre, where I used to volunteer for the Trust, playing their beautiful Bluthner Grand piano for a couple of hours every other Saturday. The music filled the place with the Presence of God – I used to play a lot of worship music – although no doubt many of the visitors would not have realised what that sparkle in the air actually was! 🙂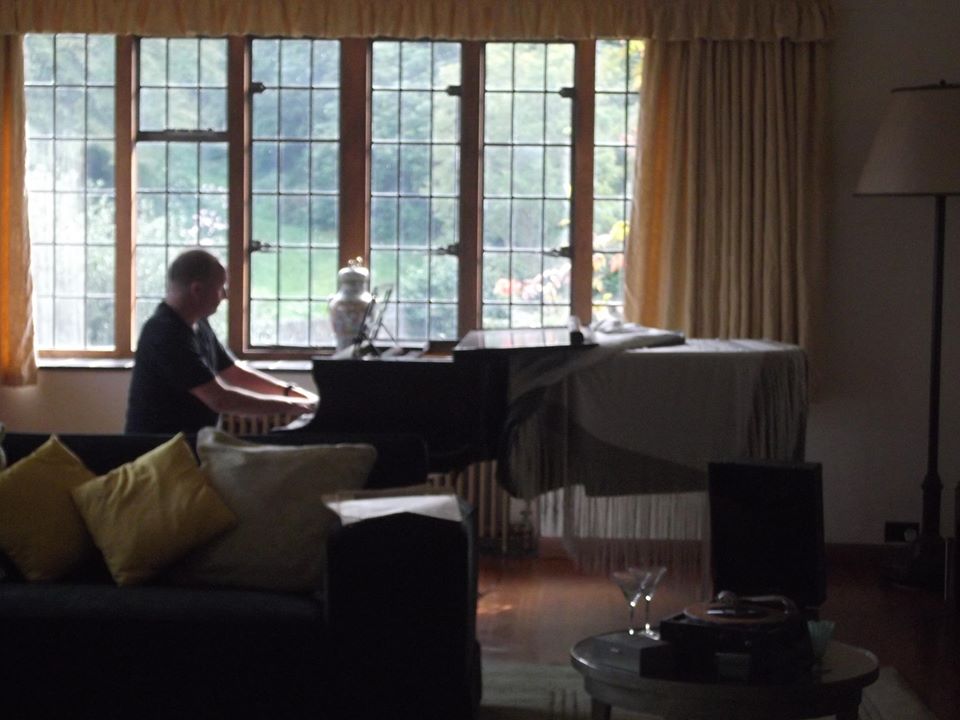 Near Froward Point is a structure known as the Daymark, or Day Marker. It's a tall stone tower which was built in 1864 as a prominent and easily-recognisable landmark to help sailors find the mouth of the River Dart estuary from seaward.
The Daymark walk is one of my favourite early morning walks because when you stop the car engine and get out, it is completely silent out there. If it's before dawn, even the birds are reasonably quiet, but it is of course easier to filter out their sound even if they are going at it.
I got there not long before sunrise on a crisp, frosty winter morning, with very few clouds in the sky, and those that there were were over the sea to the east/southeast where the dawn light was growing.
As I continued along the track towards the Daymark,  I realised that because I could see the actual horizon – there is a panoramic sea view from here from Start Point all the way round to the tops of the hills of East Devon just poking out of the sea across Lyme Bay on a clear day (excellent evidence for the Globe Earth as decried by the Flattards*) –  then I would actually be able to see the Sun come up out of the sea. Having reached the Daymark footpath, then – the Daymark is off to one side of the main track – I watched and waited.
The field that the Daymark was built in was today full of sheep. All standing around minding their own business but still keeping a wary eye on me, the interloper in their silent world.
And suddenly, there it was: the first sliver of the Sun was visible. Just like that. One second it was just horizon; the next there was this impossibly bright fragment of gold sitting there on the sea, and getting larger by the second. And I was looking straight at it as it magicked into view. It felt like there should have been a fanfare of trumpets or something to acknowledge the miracle, but, no, the silence was just as profound as ever.
Trillions of tons of superheated hydrogen and helium climb suddenly and miraculously above the horizon, just like it's done on every day before, and so of course the sheep aren't bothered. Well, I was lost in the sheer wonder of it all. I think it's simply fantastic.
After standing there watching until the Sun was showing its complete disc, I set off back to the car park with bright spots before my eyes 🙂 But there was one more wonder. Like I said, the Froward Point area has panoramic sea views, but there is equally a wonderful view inland over the beautiful South Hams. In this instance, the sunlight angle was of course so low that shadows were cast in the valleys from my angle with the Sun behind me…
…and yet lighting the tops of the hills of Dartmoor with that unique golden dawn light (it's a different colour entirely from that seen at sunset). Only the evening before, I had seen the Dartmoor hills from 7,000ft up, in my aeroplane, but this time lit by the westering, setting Sun and throwing the moors into sharp relief. The contrasts of colour, location and view were sharp and unique.
So, there we are. A stunning set of pictures taken in a beautiful area, in which I am so privileged to live. Despite being Yorkshire born and bred, and I love Yorkshire dearly, I am sorry to say that I would not move back. Not when I live in a place like this!
Hope the photos blessed you 🙂
---
*A 'Flattard' is a definitely derogatory term for someone who believes in a Flat Earth, and who tells everyone about it whether they want to hear or not. The term was of course pirated by these people, who are incapable of any original thought beyond making up new excuses for their pet beliefs, and used as the basis of their attempt at the derogatory term of 'Globetards', used by them to describe the vast majority of civilization who believe in a globe Earth.