I often write about people who live in a fear-based system, primarily those who live in perpetual fear of God. One of the main threats they use to keep people in line is that of the 'slippery slope'; the idea that if you put one toe out of line it eventually leads to the loss of, well, everything.
And in no place is that fear greater than that of questioning the status quo; asking awkward questions about God, about the Bible, and especially about your leadership, lol 😀
Here's a great piece by Ryan Harbidge, describing the whole thing really well:
---
The Slippery Slope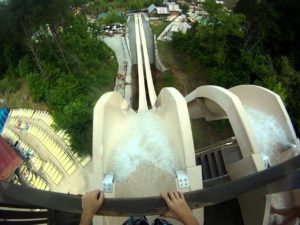 It was a heady view for miles in all directions. We were hundreds of feet up in the air. We had reached the top, something most of the poor schmucks at the bottom likely never would do. We were fairly proud of our status, though we would always feign humility. We were set apart from the rest of the common, unenlightened rabble. The large platform had a safety railing around it, except for one part. There was a gap in which there was a long, steep water slide that emptied into a large pool at the bottom. I cautiously edged over to get a closer look. Grasping the railing for dear life, I looked over. My heart started pounding. The slide was so steep, I couldn't even see the whole thing from the platform.
A sharp voice barked behind me, making me jump.
"Get away from there you fool! Stay over here with us where it is safe. We have all worked hard to get here. There were many stairs to climb and now that we are here we need to enjoy our position. You don't want to risk that dangerous slide back to being like all of those fools down there. We need to be where they can see us, what they could become with much discipline, hard work and perseverance…all given to us by God's grace of course."
I blinked incredulously, slowly breaking eye contact with that smug, self righteous face. I turned and looked over the railing to the people below. There was a vast crowd. Many were on the beach. Some looked miserable and lost. Others were laughing, talking, eating and drinking. They, for the most part looked to be enjoying themselves.
And then there were the ones in the pool. They seemed to be the most alive of anyone. Not just alive, but astonishingly alive. In fact, looking around the beach, you could tell just who had been in the pool—by their aliveness.
And then there was us. We were a stoic crowd, all by ourselves, separated from everyone else. We would sing and tell stories to each other about how we have made the right choice to be on this platform, far above everyone else. Encouraging each other to stick it out here no matter how hard it got. We would also shout encouragement to those we saw climbing the long staircase to the top where we were.
"Come on! Keep walking! Trust in the Lord! We are praying for you! Don't give up, there's great reward where you are going!"
Some would keep trudging upward and onward, some would turn back in discouragement. After all it was a tiring climb. If we were honest, we would have admitted that the climb had worn us out as well.
Once in a while, someone from our group would go down the slide. Oh, what a ruckus that would cause! We would tell each other, very piously, that the slider was weak, didn't have enough faith to stick it out with us at the top. "Don't be like that person", we would whisper. We would show outward disgust and disdain all while secretly wondering what the ride was like.
What was it like to have freedom like that?
I kept looking at the slide, at the pool, at the people in it, and I was drawn. The more I watched them, the more I realized that life up here on the high platform wasn't what I thought it would be. It just seemed empty and lonely, like I was missing out on something important. It felt like being the only one to miss out on a friends birthday party because you have the flu, and you're at home all by yourself while everyone else is having fun.
I slowly moved toward the slide, trying to look inconspicuous. Trying to avoid being seen by the pretentious eyes of those who would often take me aside and caution me against getting too close to that slide…with loving concern of course.
Finally, I could no longer think of anything else but the slide and the pool at the bottom. With my heart pounding in my chest, I stepped into the water at the top of the slide. I heard the gasps of horror from those behind me who happened to notice my new position. I lay down, crossed my arms over my chest, took a deep breath and closed my eyes.
I let the water take me.
Down.
The descent was at the same time terrifying and exhilarating. I've never felt that out of control in my life and I've never felt that much peace about being out of control either. There was only one way to go on this slide of grace. And that was into the pool of self emptying, unconditional love.
I hit the water fast and skipped on top of the surface like a flat stone briefly before sinking in. The water was wonderfully warm and smelled like fresh rainfall. I went under and could not surface. There was a tremendous weight making me sink that I could not shake off. I flailed about wildly, panicking, desperately holding my breath, before I realized that I was all right. Peace enveloped me. I stopped fighting and surrendered to the water. I took a breath.
My eyes went dark as my false self drowned in that water
My eyes opened and I saw differently. Before, my eyes were on my performance, trying to look good, trying to appear joyful when I was not. My eyes used to be focused on my flaws and the flaws of everyone else around me. Trying to look like I had all of the right answers. Trying to appear acceptable to the God who had never rejected me. Now, I began to see beauty around me. I began to see others before I saw my self. I was no longer concerned about trying to look alive, trying to appear joyful. I just was!  I realized that I was still at the bottom of the pool, but breathing! I was not just alive, but astonishingly so. The weight of my false self was gone and I could swim about freely.
Life is different now. The old crowd I used to hang around with on the platform looks down on me, some with pity, some with open disdain, and yet some have a hungry look about them. I see them looking at me and then glancing at the slide. I just enjoy living life to the full. Once in awhile the ghost of false self haunts me, kind of like an amputee experiences ghost pains. When that happens, I just jump back in the pool and breath in the sweet waters of divine love.
"Then Jesus told his disciples, "If any want to become my followers, let them deny themselves and take up their cross and follow me. For those who want to save their life will lose it, and those who lose their life for my sake will find it". Matt 16:24, 25
Jesus answered her, "If you knew the gift of God, and who it is that is saying to you, 'Give me a drink,' you would have asked him, and he would
have given you living water." The woman said to him, "Sir, you have no bucket, and the well is deep. Where do you get that living water? Are you greater than our ancestor Jacob, who gave us the well, and with his sons and his flocks drank from it?" Jesus said to her, "Everyone who drinks of this water will be thirsty again, but those who drink of the water that I will give them will never be thirsty. The water that I will give will become in them a spring of water gushing up to eternal life." The woman said to him, "Sir, give me this water, so that I may never be thirsty or have to keep coming here to draw water." John 4:10-15
---
Excellent. Here is the link to the original piece.