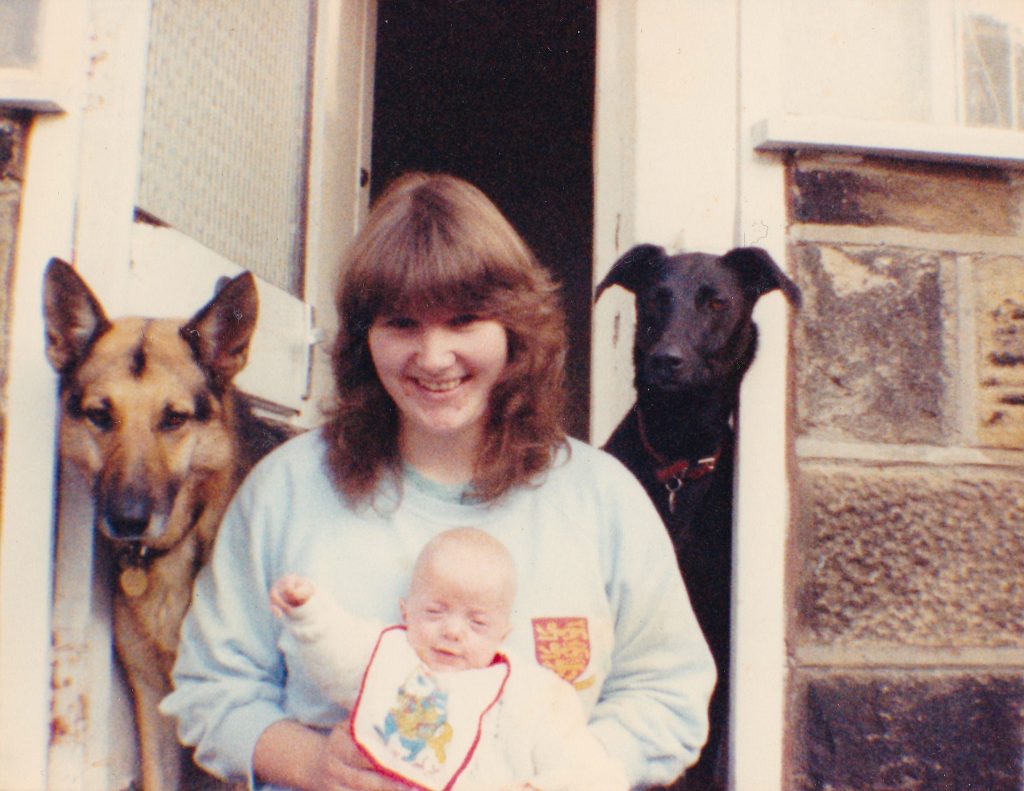 It's four months today since my precious wife Fiona died, and I wanted to share another post about her and the grieving process, again from a different slant.
While looking for a picture of our first home, I came across the picture above. It shows Fiona with our dogs, Jasper and Katie, and our son David, in July 1987. David was about seven weeks old in this picture – he'd been born six weeks prematurely – and he's now a big strapping lad who will be 30 in June. How time flies…and so does David; he's a Pilot too 🙂
But the reason I was wanting pictures of our first home is because I remember God's provision for us – in those days, and ever after – and I wanted to testify to that provision. He set up everything for us in order for us to get married, He set up everything for our house, my job, everything. Soon after David was born, as I said, six weeks prematurely, he caught a deadly illness from another child in the Baby Unit. This illness had a 50% fatality rate, and for the majority of survivors, they would have to have a colostomy. But David made a full recovery. Our next house purchase was also a series of one Divine Intervention after another. And that has been our testimony for our whole married lives together.
So how can I doubt that, even with losing Fiona, God will continue to provide for my family and I? All along, He's been right there, provided what we needed, healed us and lifted us up.
Praise the Lord, my soul;
all my inmost being, praise his holy name.
"Praise the Lord, my soul,
  and forget not all his benefits—
 who forgives all your sins
 and heals all your diseases,
 who redeems your life from the pit
 and crowns you with love and compassion,
who satisfies your desires with good things
 so that your youth is renewed like the eagle's". ( – Psalm 103:1-5)
And this has been true for us for our entire married lives together. The healing? Fiona died of cancer; how can that be a healing? Well, as I said in another post, I have never known an illness so resistant to healing prayer. And I have seen people healed by prayer; I have been healed myself – actually without prayer; God intervened sovereignly and decisively – so what happened? What went wrong? Well, I can only conclude that it was simply Fiona's time. She always believed that each person has a time to 'go'; her favourite Psalm was the 139th, and in Ps 139:16 it says that, "All the days ordained for me were written in your book, before one of them came to be". Fiona believed that. And a couple of years before she died, I had a definite vision of her healed – but on the other side of the 'veil', although I only realised the significance of that after she died. (Sometimes the abstract nature of visions makes them unclear as to their full meaning). So in a very real sense, although she died, I believe that she is indeed healed, and whole, and walking with Jesus in paradise (Lk 23:43). And remembering these times, looking at these photos, are a lovely reminder of the amazing times and adventures we had together: the places we went; the things we did; the dangers we shared; the joys and the horrors. This is a healthy thing to do, to remember the life we had together, and it helps the grieving process. It helps here to remember the Dr. Seuss quote: "Don't cry because it's over; smile because it happened". Although of course it's a bit of both, to be sure!

Most of you will know that Fiona and I had a strong ministry in leading worship. And it is no coincidence that we considered our entire lives to be built on the foundation of worship. What's that got to d
o with our first home? Well, as we were preparing our house to move into it, in late 1983 and just before we were married, we did the whole thing to the backdrop of worship. We had my ghetto-blaster playing worship tapes all the time, and we worshipped along with the music. One of the primary worship tapes we had at that time was one called 'Call to War' by David and Dale Garratt of 'Scripture in Song', and the songs on that tape always reminded us, and still remind me, of those days when we were getting our house ready. Like, for example, our first meal in the house together, when we ate Pot Noodles sitting on a pile of ripped-up carpet in the bathroom of our new house. So, here's the song that gives this blog post its title: Song of Incense. This is a lovely worship song that, to me, epitomises that tape and those days. Here it is:
Let our praise to You be as incense
Let our praise to You be as pillars of Your throne
Let our praise to You be as incense
As we come before You and worship You alone

As we see You in Your splendour
As we gaze upon Your Majesty
As we join the hosts of angels
And proclaim together Your holiness
Holy, Holy Holy,
Holy is the Lord*
What I'm saying is that you can't do better than to build your life on an appreciation of God – which is what worship is – and to involve Him in everything. Even though Fiona died, still I know that a) she's healed and whole, and b) I'll see her again. God has revealed this to me personally and there is no way I can lose that vision. Doctrines and theologies will come and go, but once Father God has revealed something to a believer, they don't forget His words. And all this is because we lived together a life of worship: closeness to God and declaring His merits. I can recommend no better way of living.
How to do this? Well, you might have heard people in churches speaking of a 'lifestyle of worship'. In other words, it's not just something you 'do' on a Sunday; it's something that pervades your entire life every day of the week. As St. Paul says in Romans 12:1: "Therefore, I urge you, brothers and sisters, in view of God's mercy, to offer your bodies as a living sacrifice, holy and pleasing to God – this is your true and proper worship". It's easy to start this. Just begin to praise and thank God for everything, in every situation, no matter what happens, and before you know it, it will become a habit that will sustain you for your whole life. Worship can be singing, just chatting with God, whispering to Him, dance, even basket-making or whatever your hobby is. And in this way you build up a consciousness of the presence of God in your life that you simply can't get rid of; not that you'd try of course. This is why so many Christians appear to go around bubbling with an inexpressible, and inexplicable, joy and radiance. These are the worshippers; these are those close to God, hearing His heart, and you will find them in all denominations and also in places of no denomination. And aside from the habit-forming worship lifestyle, worship is also tremendous fun.
So, this day, determine to offer up your own personal 'Song of Incense' to God. Start with this song if you like, then look in my 'Worship' category here in my blog for more songs to get you started.
This is my secret for how I have kept so upbeat during this time of terrible tragedy. It's all based on a closeness to God through the habit of worship. In some ways, 'The thing I feared the most has happened to me' (Job 3:25); the very worst thing that could happen has happened – I have lost my lovely, irreplaceable, precious wife. But still you see me 'filled with an inexpressible joy' (1Pet1:8), and let me tell you it's not a 'front' as someone once suggested it might be! I am a Yorkshireman and, with me, what you see is what you get! Worship forms the centre of my life; I would not be 'me' without it. I know it might sound all airy-fairy and up in the air, but worship brings the reality of God into everyday life like nothing else. I heartily recommend it.
---
*For musical nerds, this song requires some explanation. Its exotic-sounding 'unorthodox' chord structure sounds the way it does because it is played mainly on the dominant chord instead of the tonic, that is, the song is written in the key of A♭, but it begins with, and is generally played, using the chord E♭. It's a similar principle to the chord structure used in Kari Jobe's 'Revelation Song'. This is all fine except when some dork who doesn't understand how that works comes along and transposes it into 'D' for guitars, then they have to put in lots of 'accidentals' like C major and whatever. I once saw that in a Christian songbook, much to my chagrin. For starters, you should leave a song in the key in which it is written, unless there's a potential problem with the congregation's vocal range, which there isn't in this case. Most instances of changing the original key are done because it makes it easier for lazy musicians to play in a key they can manage, rather than learning how to play in any key (some keys are more difficult than others). A song is written in the key it's in because it sounds right in that key, and that shouldn't be changed without a really good reason! A simple capo-1 'G' notation would have worked…