After some of my more serious posts recently, I felt I just had to inject a bit of light relief into my blog posts.
The Bible says to "…take the sword of the Spirit, which is the word of God" (Ephesians 6:17). Now, whether that refers to Jesus, the Incarnate Word of God, or the Bible (possibly not, as it didn't exist when Ephesians was written! And I don't do bibliolatry*) but in any case, having the Scripture memorised is indeed a powerful weapon in spiritual warfare; the enemy doesn't like to hear an appropriate Scripture quoted at him!** So let's call the Bible the word of God for now. And it's the Sword of the Spirit. I like to think of it as my spiritual lightsaber***.
Now, as you may know, I am a huge Star Wars geek. Not just a fan, but a total geek. And in Star Wars lore, there is a lightsaber combat style known as Jar'Kai, which is the method of using two lightsabers together in combat.
Well-known (to Star Wars geeks anyway) practitioners of Jar'Kai are Jedi Padawan Ahsoka Tano, who wields two lightsabers of different lengths, and (usually) one of them in a forehand grip, one in a backhand grip: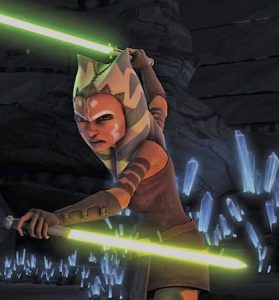 …and there's also Sith apprentice/Nightsister Asajj Ventress:
Here's Ventress using her two lightsabers while fighting against the Jedi Knight, Anakin Skywalker:
Now, here's the funny bit. At home, and also when I go to my church's life group (our housegroup), I take two Bibles. In effect, I'm carrying two swords. Or, as I'd prefer to think, my twin lightsabers! Here's the Star Wars equivalent: effectively, I use my Bibles Jar'Kai style. I take my 1978 NIV and my King James Version. I find that sometimes, one version puts a passage in a better, more easily understandable light. An example of the King James carrying a better turn of phrase is in Matthew 18:3 (KJV), as explained in this article. And the other side of the coin is that the Bible I use most is the 1978 NIV, and quite often I use that translation to obtain the modern English meanings of the KJV archaic speech. I find the result to be most illuminating! Each translation has its own strengths and weaknesses. Each Bible covers points the other misses.
Similarly, the Jar'Kai lightsaber style allows the user to cover his/her weakpoints with one saber while attacking with the other, or to get better use out of each saber. Think like the effect of having two lightsabers is greater than the sum of the two sabers.
And, for me, so it is with my Bibles. Some have called me things like 'Two-Gun Tex'. I'd prefer the Jar'Kai label but nobody knows about it except us geeks 😉 Here's Anakin Skywalker again (played by Haydn Christensen) improvising Jar'Kai against Sith Lord Count Dooku/Darth Tyranus (played by the late legendary actor Christopher Lee) in Star Wars Episode II – Attack of the Clones: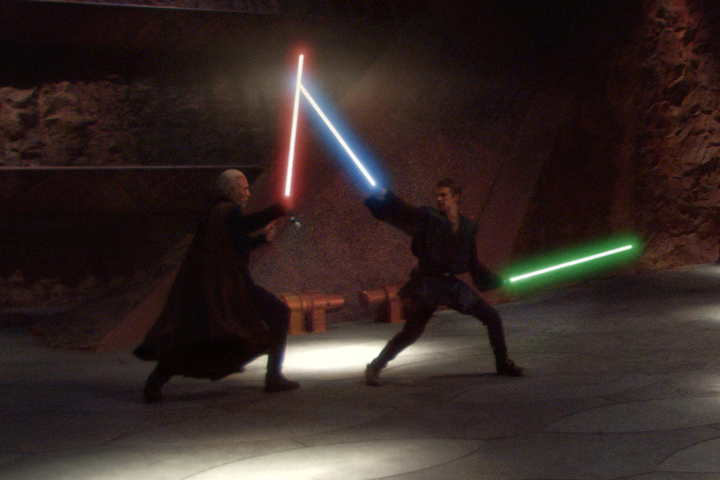 There are more parallels, too. Use of the lightsaber relies very heavily on the Force, which is the Star Wars universe's equivalent of God. Similarly, the Bible has to be used as inspired by the Holy Spirit. If the Spirit brings to life a passage of Scripture, then that is the point at which the Bible becomes the Word of God – living and active, and sharper than any two-edged sword (Heb 4:12). Although as I have said above, Jesus is the Word of God, the Bible when activated by the Spirit is still a powerful weapon. And we don't need to be ultra-precise about these things anyway; this is supposed to be a light-hearted piece.
The picture above shows Jedi Knight Obi-Wan Kenobi (Ewan McGregor) facing Separatist General Grievous with his four lightsabers****. Now that's just cheating. Not even sure that counts as Jar'Kai….
And carrying four Bibles would mean you'd have a really heavy bag.
Anyway, yes, it might sound pretentious and maybe even super-spiritual to carry two Bibles to housegroup – but I really do find it useful and educational to do so.
And I know all this sounds completely nuts. But I find it funny, and maybe that's just a quirky Aspergic sort of thing. But I thought I'd share it because it might get a few chuckles….something we could all do with now and again!
---
*Bibliolatry is where people are almost thinking of the Bible as God, and anything said against the Bible is seen as blasphemy. No, really. But of course those guilty of bibliolatry can't see that they are doing it. Now that's worth a chuckle or two, or would be if it didn't cause so much misery!
**Please don't be under the impression that I take my Bibles to housegroup in order to start Scripture-bombing fights with people. I don't 😀
***If you don't know what a lightsaber is, be advised that it's a famous weapon from the Star Wars movie franchise. It's like a laser beam formed into a sword and it can be used for both attack and defence. And it's deadly in the right hands; deadly in a different way in the wrong hands (you'd end up chopping off bits of yourself and your friends 😉 ). Another parallel about the use/misuse of Scripture!
****In Star Wars Episode III – Revenge of the Sith